11 Great Christmas Gift Ideas for One Year-Olds (All Under $50!)
It can be hard to come up with ideas for gifts for a one year old. These 11 great Christmas gift ideas for 1 year olds are chock full of engaging toys and activities that will last well into their toddler years!
*Some of the links in this post are affiliate links. That means if you make a purchase through the link, I will receive a small commission at no cost to you. Thank you for helping support my blog!*
*If you're looking for ideas for 0-3 month old, click here.*
Camden will be 11 months old for his first Christmas, and his birthday is only a month later. Needless to say, I've been spending a lot of time trying to figure out what I can buy him that he'll be content playing with until next Christmas and birthday. I want toys to have some staying power, not lived out their use in a few short months.
I also don't want every toys to do something. It's actually hard to find toys that don't make music, or talk, or sing, or do all three. I would like a couple toys like that, but I also want toys he can use to build or just to explore and use his imagination.
Here's my list of 10 things that Camden may be getting for Christmas (or his birthday), all under $50:
I've been planning to get this for Camden for months. I think this is the toy I'm most excited to give him. Camden loves music, and this Beatbo sings and dances. It has 3 modes that grow with your baby: Dance'n'Move (peppy songs to get babies dancing); Learning & Games (introduces ABCs, numbers, shapes, etc); and Customized (you record something and it will repeat).
As your child gets older, he or she can interact with it. The learning games and songs will say things like, 'When my tummy turns red, say __________.' So this is a toy that I think Camden will enjoy now, and will still love for multiple  years to come. Many reviewers said their 3, 4, or 5 year old still loved and played with their Beatbo.
There is also a pink pastel version for girls!
I actually bought this toy at a consignment shop in perfect condition. It's a great STEM toy, it uses creativity and imagination. It does light up and make sounds, but that's not the neat part of the toy. The gears come off, and the baby or toddler gets to put them on in any way he or she wants. As they build, they figure out that they have to be touching to make them all spin, and when they spin, they light up. The gears are designed for little hands, and the toy has staying power because it's never the same creation twice!
This is a simpler, cheaper option as well!
Camden loves to play with these tables at friends' houses and at the dentist office, so I know it's time to get him his own! This table is great, because it grows with your baby. The legs are removable, so before he is standing, the table can be set on the ground for him to play with. When your baby is pulling up, the table legs get reattached and he can stand at it.
Camden loves to stand and play with toys, so this is such a great toy for him. My niece and nephew played with their music tables until they were 3 or 4 years old, so there is great staying power with this toy too!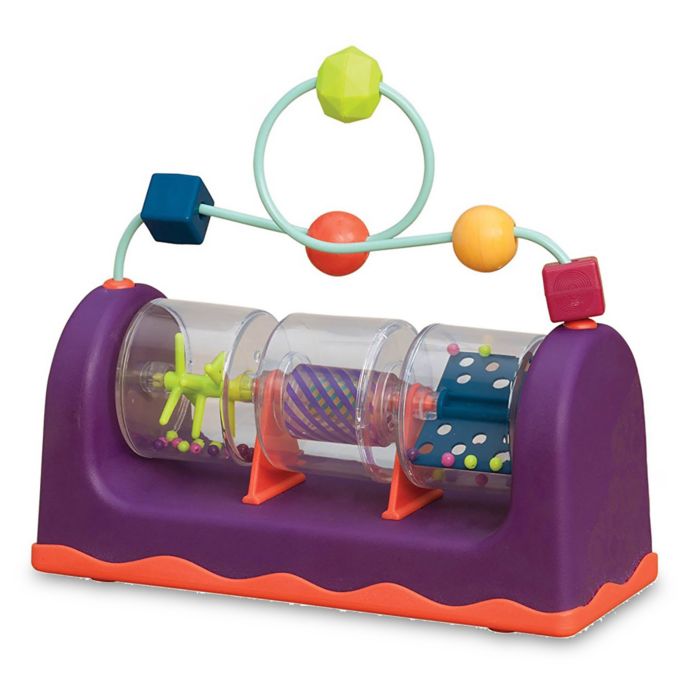 This small bead is going to be one of our favorite travel toys, I can tell. I looked at the Melissa and Doug version originally, but I came across this one the other day at Target.
Camden was in the cart, and I let him hold this to see if he'd like it. He played with this the entire time we were in Target (which, as I'm sure you know, is never a quick run-through! Ha.). He loved trying to move the beads, and he spent a loooong time spinning the cylinders.
It doesn't require batteries, make electronic noise, or play music. Its beauty is in its simplicity.
This bubble mower is an awesome outdoor toy for 1 year olds who are starting to walk using a push walker! Camden is 9 months old, and he uses his push walker (or a chair or big box) to walk everywhere! This bubble mower is going to be awesome in the spring when we can start getting outside again!
Another outdoor toy! I want outdoor toys for Camden, because it's less clutter in the house! Ha. And it's less than $25, which seems so affordable for a lasting outdoor toy.
There is also a pink version if you'd prefer.
Camden loves to stack and build with his stacking cups so I want him to have some blocks to start building with. But he is still too little for wooden blocks, so I was excited to discover these.
The textured sides on these blocks press together easily, but they are also easy for little hands to pull apart. That way, toddlers can actually build with them without frustration or fear of their tower falling over again and again.
I like these large wooden knob puzzles, because 1 year olds are just learning to fit shapes into holes. Melissa and Doug have a bunch of different puzzles this size, and there are puzzles with slightly smaller shapes, like this one.
When we visited some friends with a 3 year old and a 13 month old, Camden had a blow out (on their kitchen floor!!) and I had to give him a bath. They had these jellies in their bath tub, and Camden loved them! They stuck on the bottom and sides of the tub, and they didn't come off easily when Camden pulled on them.
As he gets older, he'll be able to move and stick the jellies himself, which will continue to make them fun for a long time.
These cars come in many different characters (like Tigger and Pooh), as well as normal vehicles (like a John Deere tractor).
They are grippable for babies as they learn gross motor skills. The cars are also virtually indestructible.
Target also sells some tracks and ramps for the Go-Grippers too, which means that these cars really have staying power. Toddlers will love moving these cars around when they're a year old, and as they're 2 or 3, they'll enjoy the tracks, too!
V-tech has really cool vehicle sets, like this train set or the police station set. Camden crawled around after this train at a friend's house – it wasn't on the track, and he just followed it around the house!
The train makes noises; it sings or teaches letter sounds. The train track is also expandable – you can buy more parts for it!
I love trains and I'm hoping Camden will too, so a train set is a necessity.
Do you have any other great suggestions for Christmas gifts for a 1 year old? What did you get your child?